"Jim Cramer has been painting nature for over thirty years as the French and Americans did, and is the best Plein Air artist this writer has reviewed in over twenty years. He, like all outstanding painters, is unique in style, color sense, compositional grandeur, and artistic inspiration." - John Paul Keeler, Hudson-Catskill Newspapers
An American Impressionist
Jim was born in Albany, N.Y. in 1948 and currently lives in Coxsackie, NY, part of Greene County. Art has been in his life since he can remember. Painting outdoors is what he does. It is what he loves, thinks about, works at, and struggles with. He has been able to devote over 40 years to the art of plein air painting and each day, he has discovered, is a world of new challenges and possibilities. Jim learned about landscape painting from excellent artists and teachers. Albert Handell, Marcia Clark, Staats Fasoldt, and Nina Rosa Irwin are among them. He has been influenced by the Barbizon School, Impressionism and American Realism, and the Hudson River School. Claude Monet, Vincent Van Gogh, and Thomas Cole, considered the founder of the Hudson River School, are especially important and inspiring to him. The Albany Institute of History and Art has a fine collection of Hudson River School paintings, where he has spent many hours, inspired and captivated by their beauty. Living in the Mid-Hudson River valley, where the Hudson River School was born, he literally walks in the footsteps of Cole and the other fine artists of that movement. Painting on location strives for a synthesis of observation (seeing), internalization (contemplation), and application (brushes, paint, canvas). Jim "paints the day" as he sees it and suggests to the viewer a sense of place via painterly brush strokes.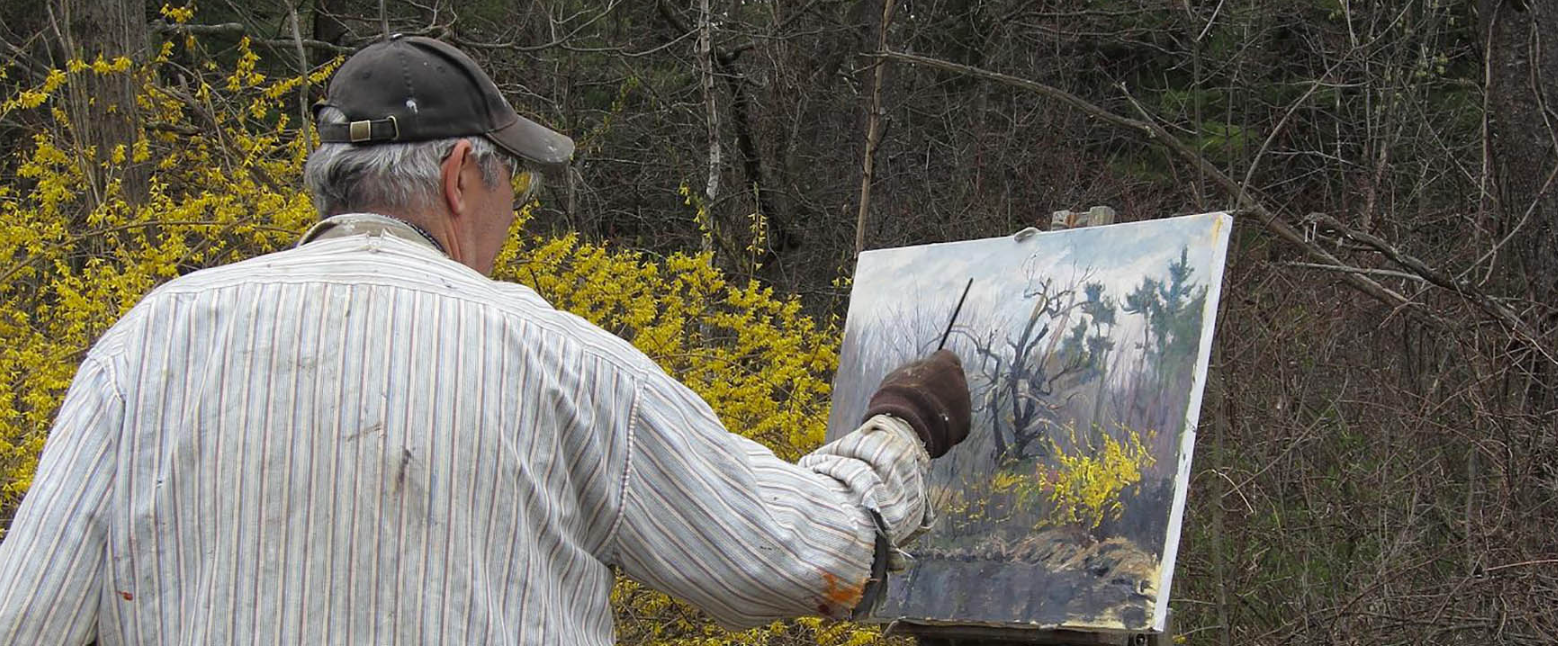 ADDITIONAL HONORS
WHMT Auction: 1990,1991, 2007
Paintings featured in Spring, 1999 edition of KAATSKILL LIFE, "The Other Clove," by Bob Titus.
The painting "Distant Catskills" was the cover artwork for the I Love Greene County Travel Guide, Catskill Region, 1987.
Works in many private collections including Columbia Greene Community College and Key Corp. Collection of Key Banks N.E. Albany, NY
Profiled with fellow artist Rob Hacunda on the WTZA program "On the River," November 1991
Plein Air Magazine, Vol 2, Issue 4, pg 52, "Over to Round Top," April 2005
Cat'N Around Catskill 2007- 2010
32" Fiberglass mold of sitting cat painted with images of Old Catskill (Leeds) exhibited on Main St, Catskill with 50 other cats. Auctioned for fundraiser.
Questar III, Castleton,NY 2008-2012 educational organization demonstrations and lectures
Colonie Arts League, Colonie, NY 2008, demonstrations and lectures.